You know how we all want to be the best mom for our kids? That if we could have superpowers to get everything done & be all that we can be for them, we'd be that superhero for them.
We recently had the honor of getting a glimpse of supermom Andi Manzano in an intimate boudoir session. Apart from being a radio DJ, a host, an influencer (and so much more!), she is also an all-around modern day supermom. She doesn't lurk in the shadows like other superheroes though, she instead, shines light, love and inspiration all around her.
Photographed by THE BOUDOIR DOLLS
Hair and Makeup by MADGE LEJANO
Set Design and Styling by YVONNE CAMAY
Video by JASON MAGBANUA
How's your pregnancy now compared with your first?
To be honest it was very similar to my first. I'm very thankful that I didn't get any morning sickness and was either sleepy or very active during my pregnancy.

pinimage
What's the best lesson motherhood has taught you?
Motherhood has taught me a lot. To be selfless but you find out more about who you are as a woman when you become a mom. That it teaches you about unconditional love to see with new eyes on what's really important — family & relationships. That you start to appreciate your mom and be a better daughter and friend. That there is no perfect mom or parenting style. That we all have our own way of raising our kids. It has taught me to be more kind and more gentle — to always look a the bright side of things rather than challenges of everyday.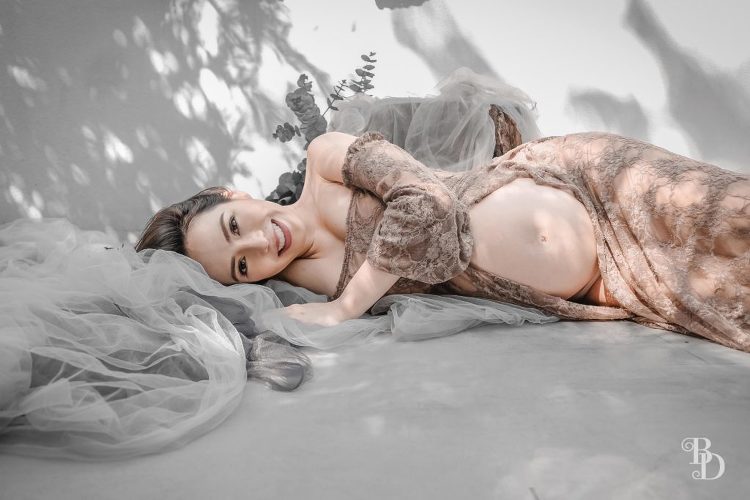 pinimage
What are the pros and cons of being a "Millennial Mom"?
The internet and social media:
PROS: The information is accessible anywhere and friends are easier to reach out to.
We empower each other.
From comments, to online articles, to reaching out or a smile on your face when you see a mom with a child throwing a tantrum. We smile cause we know the feeling — we become compassionate cause we all have been there.
CONS:  Too much information is out there and that you don't get to see your friends face to face cause all you need to do is check their IG stories to be updated.
We just need to learn the balance of both.
Work.
Most millennial moms work or find something to do to earn. Full time or a stay at home with an online business. We find ways to provide and help pay for the expenses.

pinimage
What's your message to an 18-year-old Olivia?
You are enough and don't find your worth in money, material things or men. That it's it's so important to know your worth and know who you are in Jesus.
You can tell me anything, any time. I will always be here for you. That I will love you forever and ever no matter what. Take life one day at a time. Live in the moment. All you have is RIGHT NOW, be happy.
What's your message to moms out there?
Take it easy. Breathe. Reach out. You are not alone.

pinimage
How was your boudoir bump experience shooting with THE BOUDOIR DOLLS? 
One of the funnest shoots I've done and to think we did everything in the comforts of my own home. They are very professional and they don't make you do anything you don't want to. I was very comfortable with them and it was such a breeze to work with them.

pinimage
Thank you Andi for allowing us to capture you and Olivia and thank you for empowering other Modern Moms out there with your journey.