Why does it make sense to do a boudoir session before your wedding? Because it helps tune out the noise and the chaos that the wedding preparations can sometimes bring. Read on to see what boudoir Bride Rouie has to say about the session we did with her just recently.
pinimage
Why do you think it's important to have a bridal boudoir?
Wedding preparations may become stressful especially if the bride-to-be is very hands-on. A boudoir session can help a future bride:
1) Boost her self-confidence
I realized that I can be beautiful and sexy even with my blemished skin.
2) Show her other (braver) side
When I told my sisters and close friends that I did a bridal boudoir, they were really shocked because they know me as a timid, shy, and reserved person.
When my fiancé saw the photobook, he said he did not expect that I'll be able to do a bridal boudoir because it wasn't in my personality. (But the SDE showed he had a wide smile while looking at the photos.) So,… surprise!
3) Preparation for wedding day
I got to practice how to pose and project for my portrait shots. On my wedding day, when my photographer told me to "look straight" or "part your lips", I knew what to do.
Lastly, I believe that women are in their fittest form before the wedding due to dieting or exercising for weight loss. So why not take the opportunity to have a bridal boudoir as well."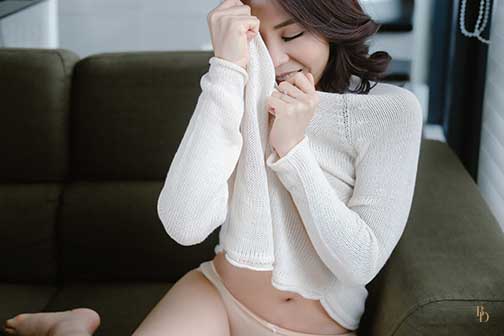 pinimage
How was your over-all experience during your boudoir session?
"At first, I felt really, really shy exposing my skin. I have never worn a two-piece swimsuit because of a surgery scar, blemishes on my back, and my fatty legs. But as we proceeded with the shoot, I gradually felt comfortable thanks to the Boudoir Dolls. She guided me with my pose and gave feedback if I'm doing good. Overall, I feel happy and satisfied with the outcome. When I saw the photos, I realized "Ah, kaya ko pala… Ang ganda ko pala." I can show some skin and still remain as a mystery to my future husband. I went out of my shell. So there goes one item off my bucket list."

pinimage
What's best advice you can give to all couples in a long distance relationship?
Long distance relationships only work if you have a goal and commit to it. For us, our goal is to make our relationship lead to marriage. We agreed to constantly make an effort to communicate. "How was your day?" is our common question. We tell each other even the most trivial matter. With this, we learned how to express ourselves and listen to each other's stories. Our relationship is our focus.

pinimage
When do you feel at your sexiest?
In the morning, when I take a shower without having breakfast…

pinimage
Any favorite quote or verse that inspires you as a woman?
"Charm is deceptive, and beauty is fleeting;
but a woman who fears the Lord is to be praised.
Honor her for all that her hands have done, and let her works bring her praise at the city gate."
– Proverbs 31:30-31

pinimage
Photography: The Boudoir Dolls | Makeup: Kaycee Lim